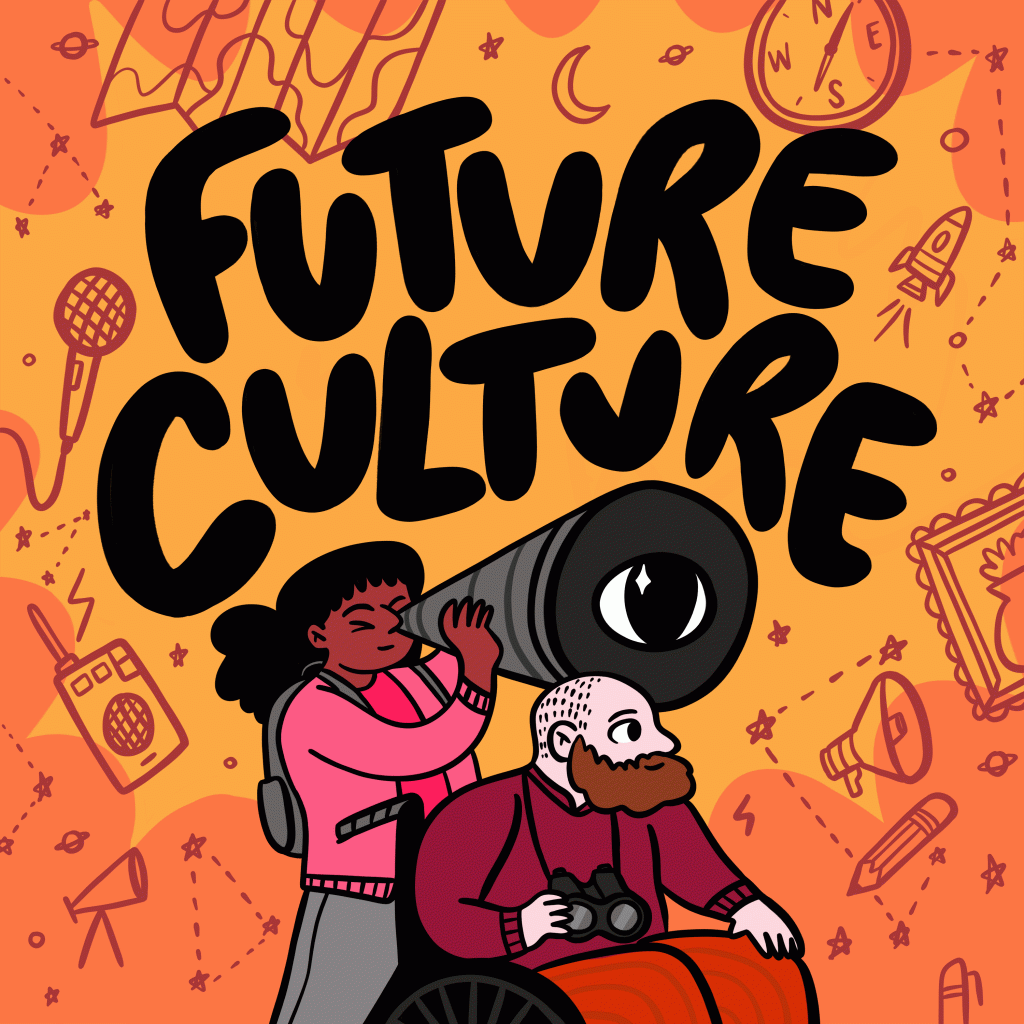 Podcast
This is the Future Culture podcast. In early 2022, Future Culture set out to explore 'What does the future hold for creatives and their importance for communities across Scotland?'. The series was based on – and drew its themes from – our 2021 Starting Points event series, which explored pertinent themes to community-based art projects within the network. Future Culture set out to continue those conversations, bring in more voices to the discussion, and explore what comes next.
Listen on your favourite podcast app, or tune in below. If you're new to these themes, you might also want to start by exploring the Starting Points event recordings, which set the themes and some groundwork for these conversations.
Episode one: ACT
Episode one, ACT, explores the theme of the environment and climate. In discussion with Ink Asher-Hemp, this episode explores the resilience of communities and the importance of hope, and discusses the role for storytelling and creative projects in thinking about our future world.
Episode two: NOURISH
Episode two, NOURISH, explores the topic of health and wellbeing. It asks how we see grassroots culture influencing wider change, when it comes to thinking about sustainability in the broadest sense. The podcast features event host Lewis Hou, and shares experiences from Culture Collective projects in Lewis, Harris, Orkney, Shetland and North Uist.
Future Culture NOURISH transcript
Episode three: AMPLIFY
Episode three, AMPLIFY, questioned whose voices were most easily heard in discussions about the arts, and explored some of the more radical ways that artists are organising outside the formal structures of the arts. Featuring event host Arusa Qureshi, it looked at the need for safe spaces in enabling wider participation – and decision making – in creative projects.
Future Culture AMPLIFY transcript
Episode four: SPOTLIGHT
Episode four, SPOTLIGHT, explored the experiences of creative freelancers, and the support that enables wider participation and more sustainable careers in the arts. With event host Heather Parry, this episode looks at protection for freelancers, precarity and Covid 19, and placing value on our work. The episode also features as extract from Leyla Josephine's 'Freelancifesto', written for the SPOTLIGHT event.
Future Culture SPOTLIGHT transcript
Episode five: BROADCAST
Episode five, BROADCAST, explored Scotland's languages. In conversation with event host Tomiwa Folorunso and Culture Collective projects working in languages other than English, we explore the ideas around language and its signifiers, the importance of recognising BSL as a first language, and the use of the arts as its own language in communicating with communities.
Future Culture BROADCAST transcript 
Episode six: LOCATE
Episode six, LOCATE, looked at the diversity of Scotland's Places. With Emma Jayne Park, we talk about honouring traditional culture alongside participation and access, and prioritising the issues that matter to different people, places and communities.
Future Culture LOCATE transcript
Episode seven: LIVE
Episode seven, LIVE, brought together all six event hosts for a live, in-person conversation that draw out, and knitted together, the themes that had emerged across the series. Each guest set one final provocation for discussion, which makes for a fascinating conversation exploring some key issues facing the future of community-rooted creative activity.
Future Culture LIVE transcript 
More about the series
The Future Culture podcast series, featured interviews with the people steering Culture Collective projects across Scotland about what influences and inspires their work and their communities. We explore subjects such as the environment, wellbeing, language, investment, minoritisation and much, much more.
Listened to the episodes? Why not head to our Miro board? An online space that's been created to invite you to join the conversation. Add your thoughts, insights, experiences and questions here and we'll include your perspectives in our future conversations.
You can also watch the Starting Points event recordings here.
Production team
Produced by Halina Rifai
Presented by Morvern Cunningham
Music by Hen Hoose
Artwork by Maria Stoian