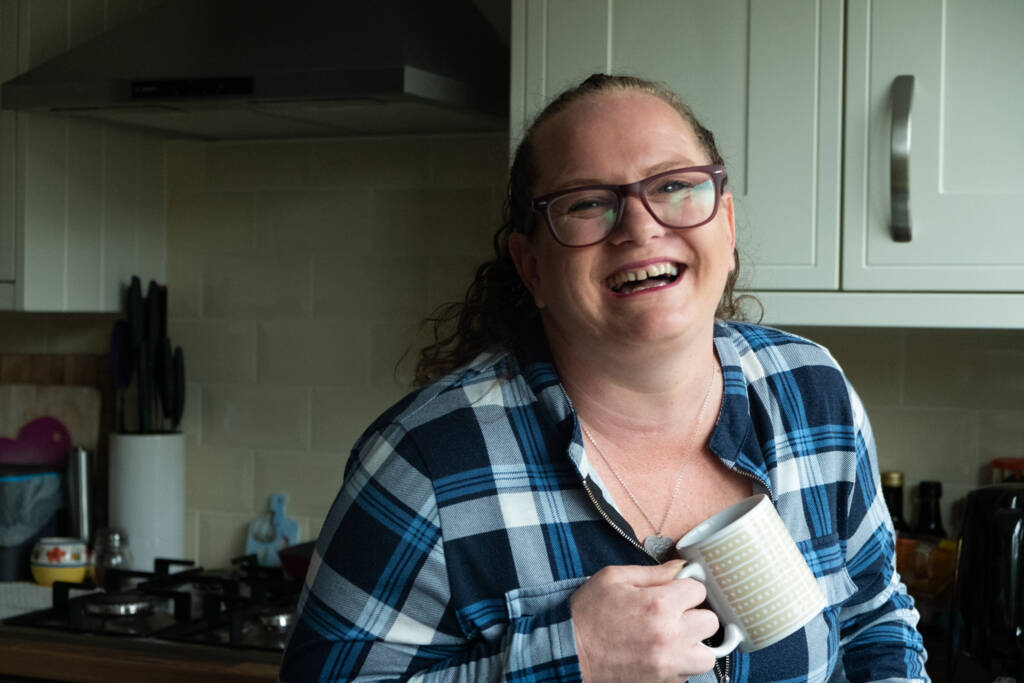 Grassroots collective action is at the core of CULTIVATE, striving to connect the communities who too often fall to the outskirts of the climate conversation but who are most starkly effected by environmental challenges.
For her CULTIVATE commission, creative practitioner Angela Gillies is collaborating with people living on low incomes in and around Forfar; offering an opportunity to make their stories and voices heard on the impacts of climate change and the daily pressures they face – from food instability to the lack of public transport.
In this blog, originally published via Creative Dundee, Angela reflects on her own background and its valuable place in her work, how reclaiming joy has brought communities together, and the important role these two elements have played in rebuilding confidence and connection.
---
'One of the tinks from Clova Road who will amount to nothing'.
This is a quote that sticks in my mind to this day. It was a comment made by an adult when I was on work experience as a 14-year-old child. I grew up in poverty, and worked very hard at school despite the difficulties my family had with finances and poor health. Although the comment has completely eroded my confidence for most of my life, this stigma has driven my work with CULTIVATE and reawakened the love that I have for the community I grew up in.
There are so many misconceptions about people who live on a low income: that they're scroungers, they're lazy, they cannot cook. None of this is true, as the women I have been working with will show you. Most of them have grown up in poverty and still live on low incomes now despite having multiple jobs, which saddens me deeply. Through my workshops and working with them one-to-one, we have formed a strong connection in creativity, conversation and reminiscence. These women are passionate about communicating the tenacity and resilience that they have, and some of the hardships they face daily.
We have also unearthed the joy of growing up poor because there was joy. A lot of it. Our days working in the soft fruit fields of Angus, the searing hot summers we used to have, the foods we used to eat. We had a strong community spirit back then and an indelible connection to the land and nature. Our grannies organised tea parties and the whole street was invited, there was laughter and mirth. We shared our green spaces and helped each other out. This is something we are rekindling together through my work with CULTIVATE.
A strong sense of community
There's no doubt that living on a council estate in the 80s and 90s was tough. The houses were freezing cold, with single-glazed cast-iron windows in the early days and a 50p electric metre that would inevitably run out when the weather was at its worst. Even our TV was rented and our clothes were ordered out of a catalogue so mum could spread the cost. She budgeted down to the very last penny and we never had holidays. Mothers were incredibly resourceful and resilient within these communities, particularly in single parent households like mine. They had strong friendship groups with fellow women in the street, and helped each other with the gardening, childcare, washing and ironing.
The estates were neat and tidy, and people took pride in their outdoor spaces. If an elderly neighbour was struggling with their garden, we would all pitch in to help. We grew our own vegetables too and shared them out amongst each other, especially if someone was struggling for food. Clothes, towels and bedding were used until they were literally threadbare, when they would be stitched or patched to be used again or recycled into cleaning cloths (known as 'cloots' in the local dialect). Shopping was done locally since most of us didn't have cars, and the local buses were the only option for travel. We lived sustainably because we had to but there was a lot of fun along the way.
Soft fruit and vegetable picking was a common source of income for lower income families, and women would all go out to work there in the school holidays. The countryside around Forfar and Kirriemuir was covered in strawberry and raspberry fields in summer, providing much needed jobs to make money for school uniforms. Turnips ('neeps') and potato ('tattie') harvests gave name to the October school holidays here: the 'tattie holidays'. People still call them that to this day.
My time at the berries and the tatties were the best days of my life. We worked hard from an early age, but we had time to play in the woods and on farms across Angus. Long hot summers were spent in the raspberry 'dreels', or breaking your back at the strawberries. Working at the gooseberries at a local farm ripped our arms to shreds on the thorns but the setting was beautiful; a lovely walled garden with a little castle. The tatties were freezing cold and the scent of the earth and rotten potatoes was strong. I always remember that smell. The community spirit was as strong as ever, and the women were the hardest working. I miss the fun and the laughs, and the coming together for the breaks we called 'piecey times'. I can still taste the meat paste sandwiches and Creamola Foam. These cherished memories are the stories we share now.
Bringing back the joy
Sharing these memories with the women I have been working with through CULTIVATE has been such good fun and we have formed a strong bond. We have all ended up in fits of laughter at the characters we knew from back then, as well as the food, fashion and songs. There were some incredible stories, including the rumour about a bomb being found in one of the berry fields, leaving only the bravest of souls to work for that farmer. We have been sharing photographs and mementos from life growing up in poverty, reflecting upon some of the habits we still carry on. We all still collect our pennies in a jar to use for shopping and use textiles until they are literally just threads. Tea towels in particular are still used for years until holes appear, then they are relegated for use as cleaning rags.
Our conversations have rekindled the spirit of camaraderie that we used to have growing up poor and we all agreed that we should try and recreate this as it has been lost in recent years. Our connection through stories has inspired the creation of a 'community garland' of forget-me-not flowers, a symbol of our fond memories. We have knitted, crocheted, drawn and painted flowers to weave us all together. Even though most of the women are often too time-poor to come together collectively at once, the garland is still something that can connect us.
People living on low incomes are incredibly busy with long shifts in multiple jobs, and some are single mums or have health conditions. Working flexibly has been an important factor in my work and has widened participation significantly. Some people prefer one-to-one work when they have time, others message me their thoughts, stories and photographs. I have worked to their agenda and facilitated them in directing the work that they want to create. Heather, a single parent to two teenage boys in Kirriemuir, was keen to create her own documentary to highlight the issues she faces with the cost-of-living crisis and her concerns about the impact of climate change on her children's future. With the help of my CULTIVATE colleague Lu Kemp and filmmaker Jonathan Ley, we made this happen for her. The outcome was hard-hitting, emotional and sadly a sign of our times.
Liv, a disabled woman from Friokheim, has been using creative writing and collage to express her frustrations about poor public transport and the lack of access to green spaces for those without a car. We have carried out a lot of our discussions online too, which is more suitable for her in between our craft sessions. My work has shown how important it is to allow participants to work in a way that suits them best, and how rewarding this can be. Creativity has helped these women to open up about their concerns, and it has been incredibly therapeutic and cathartic for all of us.
A lasting legacy of confidence
As a result of the work that we have been doing together, the women I work with now have the confidence to take action themselves to improve the things that matter to them in Angus. They are amplifying their own voices, they are taking pride in their community again. They feel as if they have the support to speak out despite the stigma that they face on a daily basis, and they can communicate in a way that is accessible and easy for them and their busy lifestyles. Some have now joined fundraising committees, written cookbooks, and are helping to curate our final celebration to showcase the work that we have created over the duration of the commission. The event will take place in Strathmore Rugby Club in Forfar; an important resource for people living on low incomes that has been badly affected by the impact of climate change. The pitch regularly floods, so the women I work with want to raise funds and awareness to help build an indoor facility for kids to use there. They can see the direct impact that climate change has on their lives; it is relevant to them and they now know that they can take action to mitigate it. These women are empowered and driven to make change, and I am very proud to have ignited this lasting legacy within them.
So, through my work with CULTIVATE, I have amounted to something after all.