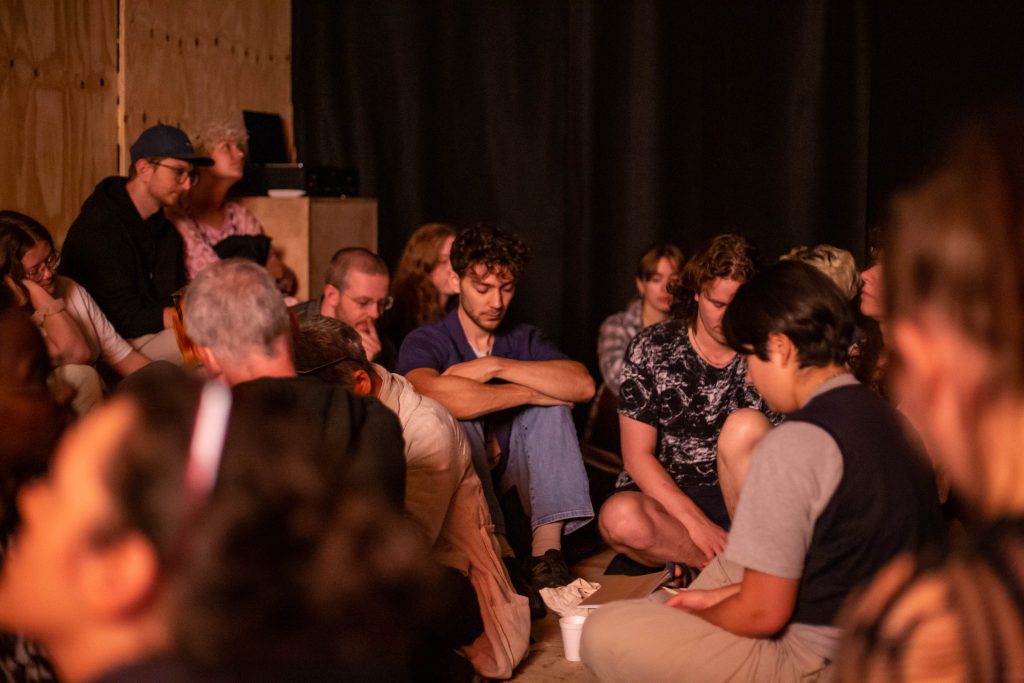 Mina Heydari-Waite is British-Iranian artist and facilitator living and working in Govanhill. Central to her artistic practice is an interest in the reciprocal relationships between places and communities, their histories and their emergent futures. Past work has included installation, sculpture, video, print, performance, text and sound, often undertaken in a variety of community and collaborative contexts.
In this piece, originally published by Govanhill Baths, she reflects on Dreamlands: The Audio Cinema, which she devised with fellow Culture Collective Artist Ros Fraser. It took place at KIOSK Glasgow in August 2022 as part of Govanhill International Festival.
---
Social dreaming is a reflective practice in which people share their dreams and associated thoughts, layering a collaborative collage of images, ideas, cultural references and feelings. How might our individual dreams manifest if we treat them as contributions to a shared imagining of the world?
'Dreaming entered my practice at a point when I felt that much of my work was replicating the structures of rationality I was trying to imagine alternatives to. I felt that the modes of observation and sequencing I was using in my research were breaking down the potential of the ideas and affects I was interested in; categorising them like dried specimens ready to be filed away. I wanted to develop techniques, symbols and environments that kept those ideas 'alive' in a way that retained a more multivalent sense of possibility.
'I became interested in material expressions of dreams, hallucinations and revelations – drawing on radical histories as resources that are less dependent on hegemonic rationalities. In contrast to dominant Western cultures, where the influence of psychoanalysis has meant that dreams are often regarded as reflective of an individual's inner life, many cultures incorporate dreams in the fabric of their material realities. I am interested in how dreams can link our individual sense of self and wider collective meanings in ways that might evade or resist some of the oppressive structures of our waking lives. How might the potency of our individual dreams manifest if we treat them as contributions to a collective imagining of the world?'
Dreamlands: The Audio Cinema was a sharing of immersive sound pieces and audio stories (listen below) exploring the potential of dream states and the launch of a seasonal Dreamlands Publication. Devised by myself and fellow Culture Collective Artist Ros Fraser, it took place at KIOSK Glasgow over the weekend 4th-6th August 2022 as part of Govanhill International Festival.
The installation debuted the first iteration of a new ongoing audio work, in walking together we make the path, in which a collective of voices weave together a dreamy, sensorial soundscape, sharing fragments drawn from the Spring/Summer 22 season of social dreaming workshops held in Glasgow's Southside. The SS22 dreamers include Lisa Bradley, Fibi Cowley, Kirstin Halliday, Mina Heydari-Waite, Ane Lopez, Martyna Maz, Anna Porubcansky, Mindy Ptolomey, Connie Arya Rose, Erika Stevenson, Muna Sultan and Molly Mae Whawell. The sound piece was created by Mina Heydari-Waite, alongside producer Ane Lopez and sound designer William Aikman.
The Audio Cinema also featured works from Ros Fraser, Sofia Saldanha, Nyokabi Kariũki, Jiří Slavičínský, a live performance by vocalist Sarah Lawson and the launch of the first Dreamlands publication, including an essay introducing the project.
View the Dreamlands publication here and keep an eye out on the Govanhill Baths website for information about the second publication.