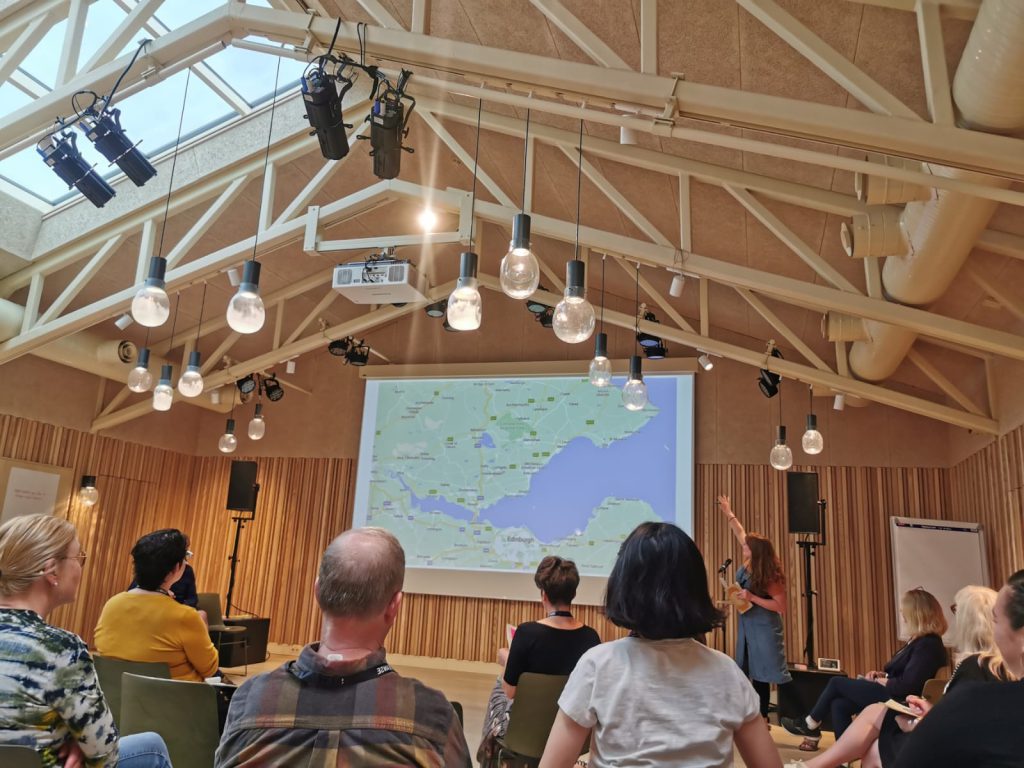 Beth Godfrey is Associate Director: Engagement at Stellar Quines and the co-ordinator of the Young Quines project. In this blog post, she reflects on her role in youth and community work and the power of transformative spaces.
---
A question I've been sitting with recently is "How can I create safe, transformative spaces? And what do I mean by transformative?" With a background in youth work, community work and the arts I've done a lot of 'meaningful work'. Sometimes when you've done it for a long time you almost experience 'meaning inflation'. You forget how important and deep the simple act of belonging is, how life changing it can be for someone to grow in confidence, to move through the world with more agency, how new friendships should never be treated as a light matter or connection to place, a by-product. But as a co-ordinator sometimes I'm cut off from this, and when you've been around communities a long time it's possible to take for granted the normal, beautiful, human every day. The gold. You experience meaning inflation. You want more. You feel disconnected from the bigger picture.
Which brings me to Culture Collective, and why you are reading my words here. Because thoughts of transformation took me back to the International Teaching Artist Collaborative (ITAC). Back In September Ruari from SEALL and myself, representing Young Quines, joined the Cultural Collective team at ITAC6, a conference exploring the intersections of arts with education, health, environment, and society in the 2020s. Its theme was 'ART AS A CATALYST FOR CHANGE'. It was a brilliant experience. As facilitators (or to use ITAC's phrase – Teaching Artists) we often work alone, holding spaces for others, but here was a tribe of people doing similar work from all over the world. I was struck how arts were used globally to build and connect community, to work through trauma, as a conduit for joy. As we experienced our international colleagues perform and facilitate workshops for us, I felt part of a much wider whole. Not just one little project in Fife, or even one national network in Scotland but something much larger. That our work was part of a much vaster picture than we could imagine.
I think my favourite quote from the conference (and terribly, I haven't cited any of the quotes in my notes!) was: "The arts don't change the world, they change people who change the world." That little distinction took some weight off my shoulders, reminding me the work is first and foremost with people, that we as organisations shouldn't consider change to be our responsibility or we'll create bottlenecks, rather than a flood.
Here's another quote for you: "We are the workforce that activates artistry in others". What an honour, to help rouse and inspire the positive energy held in self-expression and the creative act.
ITAC6 was a big, fat, juicy reminder of the WHY, of the HEART. And an encouragement that from an international perspective, Creative Scotland's Culture Collective approach to funding arts in communities is radical. People were endlessly impressed by the innovation of our united Scottish cohort of practitioners, co-ordinators, funders and a civil servant, who was soaking it up in order to advocate for us.
I was reminded of our need to feel part of a wider picture, to share each other's success and victories as part of a singular cause. As one speaker put it; "Art might just be the sleeping giant of social change". And there is no denying how much it's needed. According to Health Scotland, nearly three quarters (73%) of people surveyed felt not very much/not at all involved in their local community and over a fifth of adults (22%) said they felt they belonged not very/not at all strongly to their immediate neighbourhood. And we know that the effects of loneliness on mental and physical health are severe, even increasing the likelihood of mortality by 26%. But at ITAC we talked about our industry, that "The work is play for mortal stakes". And we know how, in small ways to knit community together in a disconnected world, the spaces we create are a salve to endemic loneliness, helping people reconnect to their inner vitality and to experience, however briefly, a lightness of being in difficult times.
And so, while we are busy with our beautiful whys in our own contexts, we also need to be fed and connected, to belong, to sustain our good works. And this is the gift and potential held in the Collective – a tribe and community, solidarity and support, understanding and grappling together towards what is ultimately a common goal.
As for my enquiry, I haven't yet fully explored the possibilities of transformative spaces, but there is a depth I've not reached yet in my practice that I'm pursuing. I'd love to talk about it with you if this speaks to you. Maybe I need to train as a councillor or coach and bring that into the mix. All I know is it really matters to me. I want to go beyond the surface, to help us connect with our humanness in a way that leaves us transformed and invigorated. At the end of the conference, one of the ideas that resonated the strongest was: "In despair we can still have hope for hope, our job as teaching artists is to clear enough space to give it a little oxygen".
Supporting people towards hope for themselves and their communities, through art, and giving that hope some oxygen, through play? I'm so here for that.