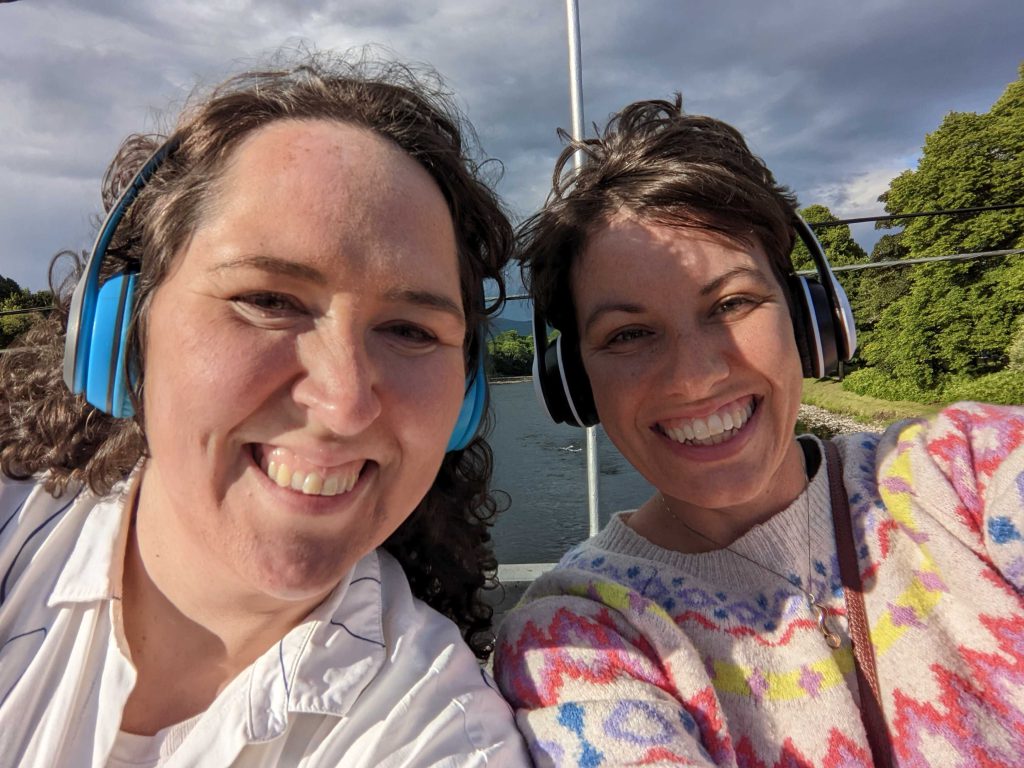 Kathryn Welch is a freelancer and Programme Lead for Culture Collective. In this blog post, Kathryn reflects on the many visits she has made to Culture Collective projects throughout the life of the project, and on the joy of seeing these projects in action.
---
Nothing quite matches the experience of going to spend time with Culture Collective projects in action. These visits are an opportunity to understand the local context of projects, spend time chatting with the people involved, and start to get under the skin of what's special about these projects, in these places, with these people.
It's the stories and anecdotes that come from these trips that really bring Culture Collective to life. So I thought I'd take a moment to share a few of the stories that, looking back, stand out to me from going to see many of our 26 Culture Collective projects in action over the past 15 months or so.
One grey morning in Greenock, with the rain stopped just in time, I joined a celebration of local writers' groups led by Inverclyde Culture Collective's writer-in-residence Katharine Macfarlane. Based in a brand new community garden, tucked behind Greenock's South West Library, local writing and poetry groups came together to read their work aloud. Some had never written poetry until they joined Katharine's groups, others had nourished their writing with new materials made available by the local archive. One woman had joined the group with her ten year old, and a teacher had been reunited with a (now grown) ex-pupil. One person described how they'd moved back to Greenock during lockdown, and struggled to find connection with their new neighbours until they'd joined the writing group. What shone through was the strong sense of the family the group have created together – supporting and cheering one another on through ups and downs of life, as well as through their writing.
I went twice to Springburn Park, in north Glasgow, to the boldly-named Here We Are! project, led by Toonspeak. On my first visit, the Men's Shed were painting an undercoat on the exterior of their building, supported by Culture Collective artists who were helping them consider what they might choose to represent the history and character of the area. By my second visit the mural was complete, and the park was filled with dancing, singing, artworks, music-making and home cooked food: perhaps encapsulated by a hand drawn poster reading Just Do Art, dinnae worry about it. The Cannae Sing choir certainly can, and did, and inaugural performances by the young theatre group were incredibly powerful. One young writer shyly confessed to this being her first ever public reading, prompting a massive round of applause, cheers and whistles.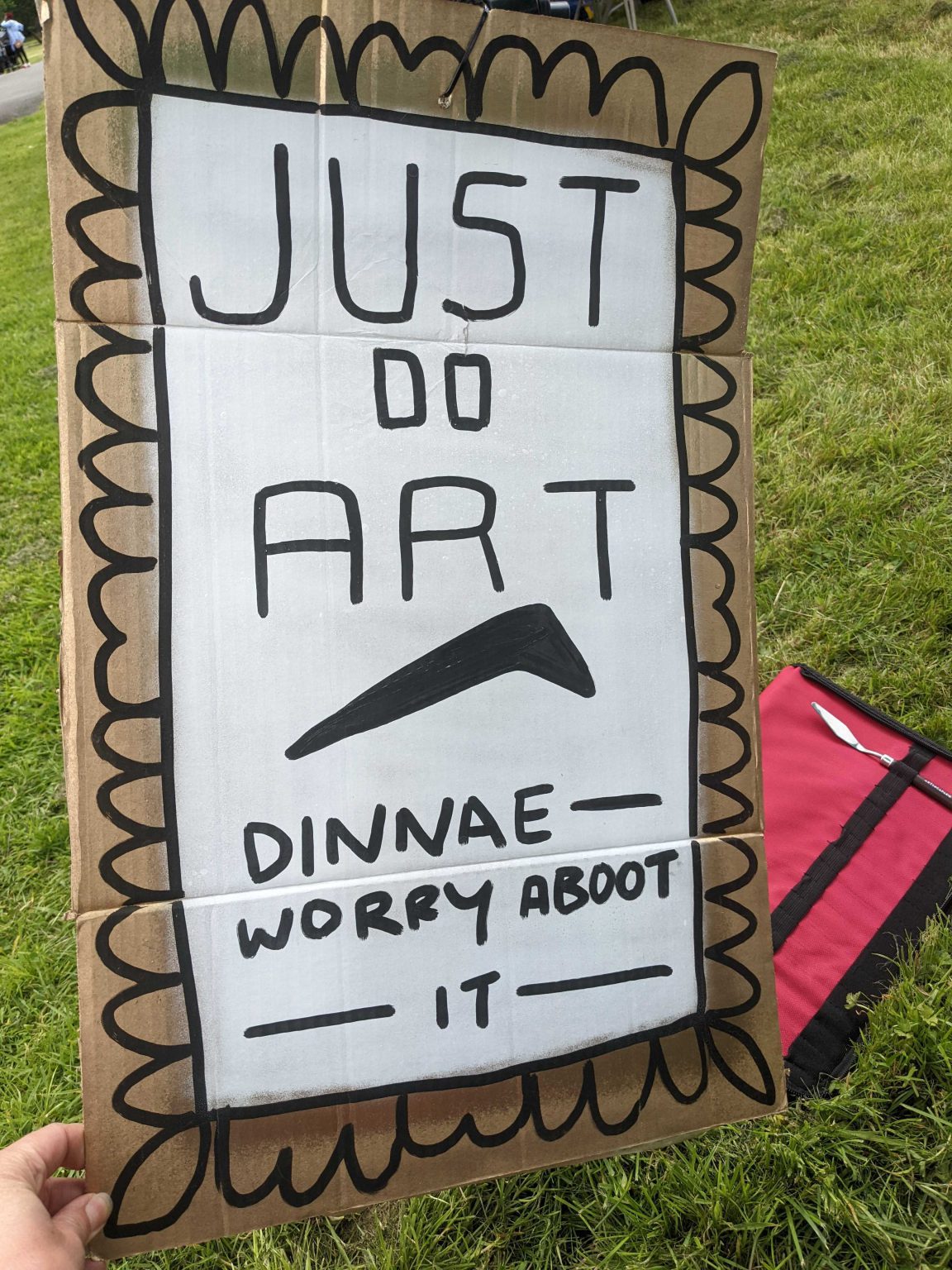 In a village hall in Kirkcaldy, I sat amongst family members to witness a small group of young women and non binary folks marking the end of their summer project with the Young Quines, led by Stellar Quines. The bond they'd formed in a short period of time was really apparent, and their stories were heartfelt – sharing their worries and pain with us, as well as their hopes for the future. I think it'll be a long time before I forget a Letter to My Future Self that included the line "Are you still in touch with the people you met at Young Quines? I hope so".
The sun shone for an idyllic trip north to Deveron Projects in Huntly, where I joined a workshop led by Dr Emily May Armstrong, considering the interconnectedness of plants, people and place as part of artist Hussein Mitha's project The World Is Ours: in spite of all. We talked about our role in shaping the natural environment, and the impact that in-turn has on our own lives and wellbeing – conversations that will feed Hussain's work connecting local young people with climate activism. Aptly, we ended our workshop with reading meditations in the sunshine of the beautiful Deveron gardens.
I went to artist kick-off meetings in Fittie with Open Road and in Dumfries with The Stove Network's What We Do Now project. In both cases there was a real sense of optimism, excitement and possibility as artists and partners came together as a group for the first time to start to share ideas, find areas of mutual interest, and consider what might be possible. And in both cases, the connections between creative practitioners, local community groups, and arts organisations were already stimulating new conversations, perspectives and questions.
And I couldn't have missed Culture Collective's first film premiere, with Mark Lyken's Notes From A Low Orbit screening at Alchemy Film Festival in Hawick. The mostly-local audience cheered and laughed as their community and people were brought to life on the big screen. The first question in the post-show discussion was "when are you coming back to make a sequel?".
And there was so much more – an oral history project in Langlees, Falkirk where we talked about the history of drinking and dancing in the community. A showcase of "music like you've never heard before, on instruments like you've never seen before" alongside an exhibition of photography and artefacts to mark Roma, Gypsy and traveller history month in Govanhill. Talented young people on stage at Intercultural Youth Scotland's Scotland in Colour festival, and sharing lunch and stories with people who'd taken part in Artlink's 5th Exit exhibition at the Howden Park Centre in Livingston. Men with a history of addiction coming together to paint and make music in Forgewood, North Lanarkshire, and a family pressing leaves into clay in a playpark in Seedhill, Paisley. A performance by Yemeni artists-in-exile in Edinburgh's Southside, and Tales o Fowk & Water Beasties as part of the Moray Walking Festival in Aberlour. Collecting and sharing seeds as musicians played in the beautiful community garden of the Maxwell Centre, Dundee. So many people, stories, places and connections.
And so, as we head into winter these visits will continue, no-doubt prompting more stories and a deeper understanding of the what, who and why of Culture Collective. At the same time, projects across the network will be visiting each other to learn and share…. But that's perhaps a topic for another blog.
Till then, here's to going, and seeing, and learning.