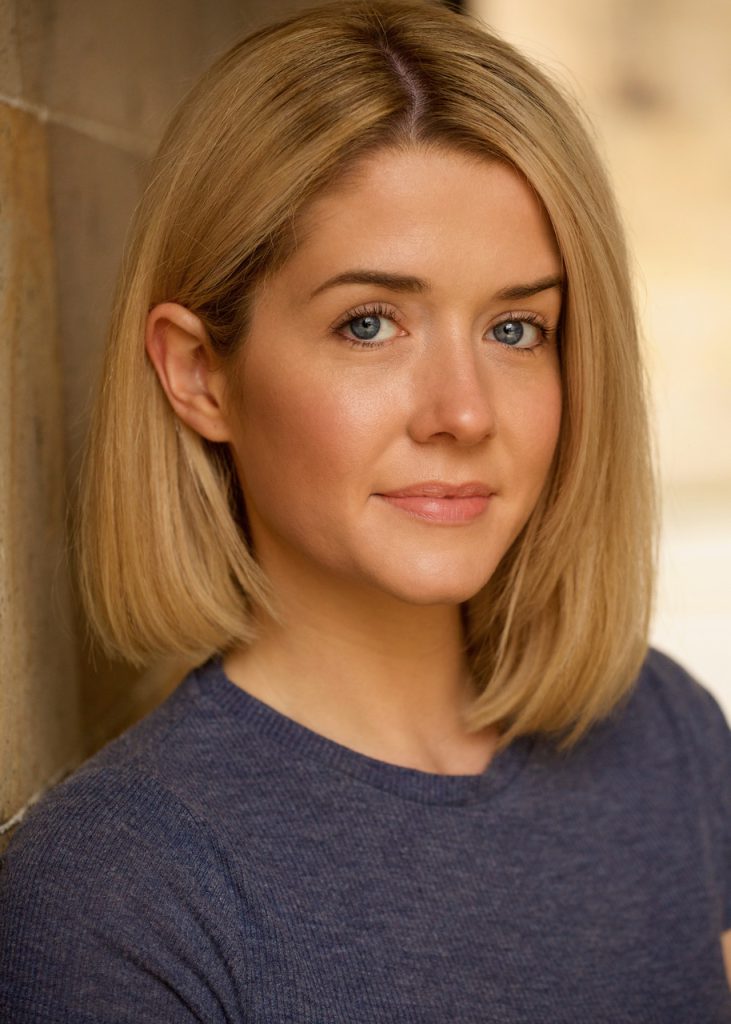 Rachael Keiller is a Fife born and based facilitator, actor and director. Her practice spans from working in communities with young people, in youth theatres, to work with babies and grannies alike. She has also worked extensively as an actor in film, theatre and TV.
Rachael is also a budding director and is starting to build her experience in directing within theatre and film. Companies she has recently worked for include, Visible Fictions, Tron Theatre, Lung Ha Theatre, Stellar Quines, Company Many, BBC Scotland.
In this Q&A, she discusses her experiences as part of the Young Quines Culture Collective project, and what her hopes are for the future of the initiative.
---
Can you tell us a little more about you and your practice?
My training is in acting – I went to college in Edinburgh and did a HND in acting and performance at Telford College. And then I graduated and I was lucky enough to get an agent, get representation and start working, which was great. After that, I decided to move to Glasgow and work from there, and following the move I went back to Uni and got a BA in acting from New College Lanarkshire. Alongside all of that, I always worked as a facilitator. Having gone to youth theatre myself, I was really interested in pursuing this as a job while also being a student.
I grew up in Fife, in Leven, before moving to the city. It kind of felt like if you lived here, you had to move away to get any decent opportunities to work in the arts. Growing up in Fife, I went to Buckhaven Youth Theatre, which was where I caught the bug for acting and performing. But like I said, running alongside was this interest in facilitation and working with young people. So for a long time, I worked at the Tron Theatre in Glasgow and ran a lot of their participatory groups, youth theatre, baby classes – loads of different stuff. So I feel like a lot of my background and training came just through working with groups and different artists and learning from them.
How did you get involved with Stellar Quines and their Culture Collective project? Why is it something that you wanted to get involved with?
When the pandemic hit and theatres closed, I was living in Glasgow and my partner was back in Fife. We decided to move in together and obviously, no one knew how long the lockdown was going to go on for. But I moved back to Fife to be close to family and then when the lockdown continued, I stayed and started working from home and running workshops on Zoom. And then Stellar Quines put out this opportunity involving Fife which I thought was really cool, because I had moved away exactly for these kinds of jobs. I saw the opportunity on the Creative Scotland website and thought, I have to apply for this. But the thing is, we had been in the pandemic and I'd also had a baby in this time, so loads had happened. I wasn't sure if I could do it and I wasn't sure if I could work for this big theatre company that I had looked up to for so long. But what was great was they were looking for two roles – Creative Leads to lead the project and Emerging Creative Practitioners to come on board, with the focus being on learning. I had total imposter syndrome but I applied for the Emerging Creative Practitioner role because I thought it would be a great way to get back into facilitation. Amazingly, I got the job and lockdown started to lift, so we were able to work outdoors and indoors with masks on.
It was really tough during that first year because we were going back into lockdown and COVID was coming back. So we were having to go back online and it just felt like we couldn't get going. We couldn't get into schools to promote it because schools weren't having visitors. We couldn't go to community events to flyer because there weren't any happening. It was a kind of stop-start year of just getting the project on its feet, which was really weird.
The project is now in year two and after the first year, we reviewed how the different hubs – in Leven, Anstruther, Dunfermline and Lochgelly – were getting on. One thing that came out of this was that we felt the need for a younger group. And I was really passionate and excited about that because our group started at 14+ and I knew there were so many young girls out there who needed this opportunity as well. So we decided to try it out and I'm now the Lead Artist on Younger Quines in Leven, which is for 9-13. So that's a group that they would go to before going to Young Quines. The project is up and running now and it feels like we're getting numbers and we're getting momentum. But it hasn't been a smooth ride getting here and I'm sure all the Culture Collective projects really feel that as well, that setting up a brand new thing during a pandemic is hard. It feels like only now that some parts of it are really gaining traction.
What does the Young Quines and Younger Quines projects involve and what is the general format?
We run every Tuesday – Younger Quines is 4-5.30pm, so they come straight from school, they have a snack, we have a check-in, we have chat and then we work for an hour and a bit. The Younger Quines started in September, so we're still in quite early stages of working together as a group. But normally what the session would consist of is warm-up games, activities, group work, devising tasks, and general theatre making skills. And right now we're working towards a small sharing in May that we're going to do for parents, carers, family, friends and more to come along and see. There's a real social side to it as well – that idea of coming in, having something to eat together, checking in, seeing how everyone's getting on and then starting the work feels really important for that group. And it's one of my favourite parts of the job actually; it's just as important as learning drama.
After that, we start with Young Quines, which is 14+, and they run 6-8pm. And it's similar – theatre-making skills and devising but with a real sense of the social side of it as well. So having a tea break halfway through, making sure every week there's a check-in. They're all really great friends but a lot of them go to different schools so this is the only time they see each other. So we have to really allow for that space for them to chat and do all of that as well. On top of that, we also go on theatre trips, which is exciting for them to be able to get out and see other youth theatres putting on full-scale productions.
We also ran a summer project during the holidays last year, which was called Take Up Space, and that was an invitation to young women and non-binary people in Fife to come along, meet each other, and make something cool. We didn't know what it was going to be, but at the end of the week we did a kind of small sharing to an invited audience. So it's weekly sessions, but there's always something else happening, whether it's a theatre trip, or we're going to go to a workshop. We're really keen for the young people to make their mark in the community and go to things that they maybe wouldn't have gone to otherwise.
Why is this project so beneficial to young women/non-binary teens?
Here in Fife, where I grew up, and where Rachel Jane who I work with grew up as well, the youth theatre provision that existed doesn't exist anymore. And so when we started, this project was the only thing that was happening. And it was the only thing that was free, so if young people wanted to be involved with drama before, they had to go to a private theatre group, which wasn't always affordable. I know how important it is because if I didn't have a youth theatre experience as a young person, I wouldn't have my job today. My life, I don't know what it would look like but I wouldn't be doing this. And for it to be free I think is so important – I think it was £2 when I went.
Also just as an artist coming back home and looking around, there are no theatres open and running a youth theatre. All of them are touring spaces which have visiting shows. So it feels like if we want to have opportunities for young people here, they need to be happening here first, otherwise, they're not going to know that these kinds of things might be for them. And it might not be for them, but at least they can come along and try them. Also, because we're creating a space that's predominantly for young women and non-binary people, it's giving those marginalised genders that space to just come along and exist. It feels really beneficial for the young people, because you can see on a weekly basis that they don't get that time in school or at home or wherever. So it feels like we're doing two things: we're providing the theatre and the drama opportunities, which is obviously great, but also on more of a social side, we're creating a space that doesn't really exist anywhere else in Fife for that kind of group. Somewhere they can be themselves for a couple of hours a week can have such great benefits in terms of mental health, in terms of confidence, in terms of making friends and feeling understood.
What are some of the most interesting things you've learnt from being involved in the project?
In this day and age, it's all about social media and putting things online. And that's great and I get that, but this project has been a massive eye opener in terms of word of mouth and working in communities. People speaking to each other and speaking to people still holds so much value and I think the pandemic and coming out of the pandemic has really highlighted that. Most of our participants who have come along didn't see it on Instagram. We managed to get into one school and do a workshop. And thank goodness, because we've got so many participants because they got to meet us and get a feel for what the group might be. But then they told their friends, who told their friends who recommended it and they'd come along and try it. And because we have a really open door policy, you can join in anytime – we just need a consent form from whoever looks after you. This has meant that people come and try it and everyone has actually stayed, which has been amazing.
For me, if you're going to start a project in a community where there isn't a lot happening in terms of art provision, you can't just rely on social media and flyering, and hope that people will turn up. You have to be on the ground, in the community, meeting the people, and allowing that time and space for the project to land and settle, because for the first few weeks, when we didn't have people showing up or it was really quiet, we were like, what are we doing wrong? But I think if I was going to go and do another project or start up my own project, I would focus on allowing that time and space for word of mouth and building trust with the community because it's been such a big thing as part of this project's growth.
Have you had any feedback from participants which suggests the work has been beneficial?
A lot of our older groups who are 14+ let us know all the time that they're just glad that this exists. I hate that term safe space, because we throw it about all the time in the arts but it is like their safe space for that two hours a week where they get to be themselves. And then our younger group is just so full of energy and excitement. They're always telling us exactly how it is and how much they love the games and drama. So the feedback is super positive and has been, but from a facilitator point of view, what I see is the growth and the confidence and the ability. Some of the participants who wouldn't read a bit of text to begin with are now getting up and performing. And all of that stuff that you really hope for as a facilitator is starting to happen, because we've had the time with the young people to allow that to happen. The fact that we're doing a sharing in May is incredible. A lot of them would have been like 'no way am I getting on a stage' to begin with.
Also, some of them are really honing into what they want to focus on. So for a few of them, they don't want to be actors or performers, they want to do stage management or costume design, or they're more interested in backstage things. And so what me and RJ have done is tried to give them that experience as well to work on other things. You don't have to be a performer to come to this group; you can do loads of different aspects of theatre. And if we aren't practising it, if we don't know about it, we will get someone in. Working with Stellar Quines is amazing, because they have all these connections, and they are able to put us in touch with a stage manager, for example, to come and speak to them.
Why should arts and creativity based projects be supported and exist when it comes to supporting vulnerable groups?
I think mental health comes into it massively. I could go on all day about how good everyone feels at the end of a session. But there's something amazing that happens in a two hour session of playing games and being creative together, and everyone's buzzing, including me. And for the young people, you can just feel that in the room. There's a cost of living crisis, the area we're working in is socially, economically deprived. There's food poverty, there's all these social issues going on in the area, and we recognize that and we're working along with that as well. So even just taking the drama out of it, having a nice, warm, safe space to have something to eat and drink and be a bit creative and meet friends has huge benefits. And then on top of that, we're also sharing our practice with young people and sharing our skills and learning from each other and having a really good laugh, which, I believe, we all need right now.
What are your hopes for the future of the project?
My hopes for the future would definitely be that it continues. A really hard part of this job is getting a project up on its feet and running and then not getting funding for it for the next few years. I know that Stellar Quines are doing everything they can to try and get some money for going into next year, and for it to become an integral part of the theatre company's work. So my hopes would be that it can continue and grow and strengthen, and that we can really make a bit of noise here. And that people can start to know what we're doing and who we are. Doing a full scale production doesn't feel like the right thing at the moment but for next year, for example, I would want to be looking at putting something on in a theatre in Fife with a budget and advertising – that would be the dream. And to get into schools and do a bit more work there for young people that we haven't managed to reach yet.