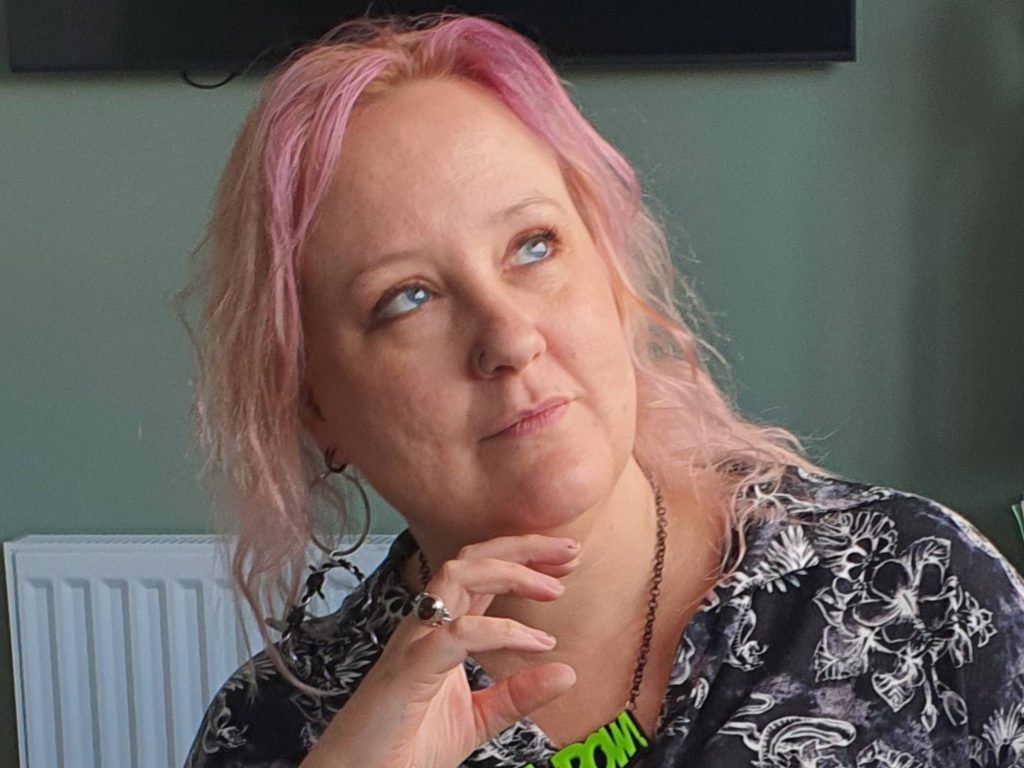 Philippa Tomlin (she/her) is a socially engaged visual artist and theatre director. With participation at the core of her work, she creates hybrid multimedia public art. Her creative practice has punk roots and is positive protest, curious and challenging – it brings people together, shares stories and strives towards positive change.
In this Q&A, she discusses her work with Toonspeak, the benefits of participatory arts and what she hopes for the future of Culture Collective, as well as what she's currently working on.
---
Can you tell us a little more about you and your practice?
I'm a participatory artist and I specialise in visual arts and theatre – often together, sometimes separately. And as much as I have my own practice as an artist, my main practice is with community groups, and that can vary.
How did you get involved with the Culture Collective? 
I answered an advert that I saw for a lead artist in North Glasgow, and absolutely jumped at the chance because I have always wanted to work with Toonspeak. I was a massive, massive Toonspeak fan on the sidelines. When this post came up, I just thought it was perfect, because firstly, it was Toonspeak, but also, it was with the North Glasgow and particularly, Springburn, Balornock and Barmulloch community, which is a community I've worked with before. I was also really into the idea of the Culture Collective coming out of COVID, and knowing that, obviously, with the arts being such a healing process, how it would be baby steps, getting people together. I was determined that I was the right person for the job because I think being a participatory artist, and not having that ego of an artist, I'm able to be the person who has a cup of tea for half an hour with someone and then we might do a little doodle, or we might do something a little bit creative. But yeah, not pushing the art first in this particular context.
What did your day-to-day work involve? What kind of work did you do with participants?
I headed up a team of artists, with a project manager called Emma. And the artists were involved in a range of different art forms. So there were visual artists, dancers, theatre makers, and musicians. And what we did is we offered pilot workshops, at first to different community groups who became our partners, so that they could try different stuff out. Part of my job and what I'm naturally quite good at, is matching people up with different organisations. I kind of get a feel for a place and an idea, and I think, 'you would suit doing this work with this artist'.
I was also there to support the other artists, because we were all feeling quite vulnerable coming back after lockdown. Some of the artists had less experience of working in community settings so I provided an opportunity for us all to get together and do training together. But I was also there at the end of the phone if anyone wanted to run workshop plans by me. And then as the work developed, I was able to actually get into the work myself and started making things with the groups. One of my absolute favourite things that I did was I worked with the Men's Shed in Springburn Park, and they were amazing. They're all retired, or mostly retired men who are joiners and painters and decorators. They get together because they help garden and keep the grounds of the park and keep each other going. They're a support network for each other as well. They got in touch with us I think because they wanted us to paint something pretty for them on their building. And being the Culture Collective, we were like, well, we could do that or we could get you to do it with us. And that's exactly what we did. So myself and John Martin Fulton worked with them, we taught them how to spray paint, we primed their shed, and then we painted a big mural on the shed with them, which was brilliant.
My other favourite project was with a group that I managed to get to work with, which was the North Glasgow Integration Network. And it was a mixture of different women – and babies came along as well – who had been through the asylum seeking process or were refugees in Glasgow. A lot of the time through the Glasgow Integration Network, they were doing serious stuff. They were learning English, filling out forms, doing the day to day things that they needed to do. And we offered a break and some fun. So they did artwork with us, jewellery making, we made little boxes etc. And it was brilliant fun and we had so many different languages. So much confidence developed, because there's learning English as a formal thing but then when you're just making together, conversation happens.
We built up this collection of people doing different art forms and they all came together in Springburn Park in the summer to share experiences, offering an opportunity for people to take part in arts stuff. So we had Jaz, one of our visual artists, out spray painting stuff and inviting young people and families to join her and try it out. But then we also had a bit of a performance space. I was leading a young people's group from Toonspeak, and they got to perform in the Springburn Park auditorium. And then there was also food; the park was absolutely jumping! It was brilliant.
What are some of the most interesting things you've learned from this work? And what are some things that have really stuck with you that you've now been able to take away and use elsewhere?
One of the things that really stuck with me is this idea of longevity. Community work isn't always something where you can just jump into a place, do some artwork, everybody's up to speed and then you go away. It confirmed some learning or some thoughts that I'd already had, but it was about being able to have that time because of the funding and because of the context coming out of lockdown. All of the support was there for us to take a nice long time to try different art forms out together, to try and match artists with specific groups that would work well.
The other thing I would say is that initially, the partners saw themselves as community centres or churches or community groups, and they didn't see themselves as arts organisations. And I think, or at least I hope that by the time we finished that year, some of them were definitely thinking, 'Oh we are an arts organisation' or 'we are creative and that is part of our work so we could employ artists ourselves'. Like I think Tron St. Mary's, one of the churches, now employs Ross, one of our artists, to lead a choir. So it was just recognising that that's who they are and that's what they do already, but thinking about it differently.
Why are projects like this so beneficial to people who face multiple barriers to accessing mainstream arts?
The layers are just immense with this. But for example, there was a woman who came along to Tron St. Mary's; she came along in her coat the entire time, and she didn't take her coat off the whole of the first quarter, from September to December. She would come along, she wouldn't speak much, but she was there and that was important. Over time, she's up on her feet, she's doing drama, she's singing, she's meeting new people. She's not only joining our groups, but joining other groups to see what they're like. And then by the time it's the summer, she's one of the people who's pretty much part of the gang, if not running the show. Her coat has come off, not just because of the weather, but because she's confident.
Everybody's individual journey is just so important in these projects, and it's amazing to see. There's the big stuff, and then there's the little stuff; there's the confidence, there's the conversations, there's the creativity in the artwork as well, realising that you can do something creative, you can fill time, you can share something that you've learnt with a family member. There's just so many layers to making art together.
Why should arts and creativity based projects be supported and exist when it comes to supporting vulnerable groups? 
Projects like this should continue to be supported partly because I think participatory arts are taken for granted a lot of the time. And I think that the brilliant thing about Culture Collective and Creative Scotland is that it was about recognising the need for participatory arts, coming out of a massive global crisis and realising that we are the ones who can help heal through arts practice. I think that speaks volumes and it kind of tells me that the arts world knows this already, and yet we are continued to be overlooked as artists and definitely second to "the talent". And actually, we have immense skills as teachers, facilitators, artists, and mentors – all of that is rolled into one in terms of our creativity and our art form.
What would you like to see more of in the future?
I'd like to see more long term projects. Again, the fact that Culture Collective managed to exist for a year originally, that was epic in itself, because that doesn't happen. And then the fact it got to be two years. I mean, I talk about our project like it was this amazing, shining, brilliant thing, because it was – eventually. But those first three months in the winter coming out of lockdown, it was hard work. We met traumatised people who had been through everything; we'd been through it all so we were shaken and working out how we all work together. Then you've got the layers of 'Oh, and by the way, we're going to sing, we're going to dance, we're going to draw,' which is terrifying. It's brave enough signing up to these groups, and then suddenly, you realise that you're going to do it. Some people find that absolutely terrifying. So the first steps of those three months, it took so much time to gain trust, to start sewing those seeds of confidence. And to find a routine with it and get used to everybody and meet new people. So having that year is what made it a success. By the time we got to the summer and we had built our community, and then invited everybody else to join us in the park, it was brilliant. But if you'd come along in October of that year, compared to the next July, it was a very, very different vibe.
What have you taken away from being involved with Culture Collective?
I go to lots of different training opportunities and conversations and Creative Scotland at the moment is hosting conversations about fees. And one of the things that Culture Collective did was pay participatory artists properly, which was absolutely amazing. The other thing is that everybody references it now; it has become an example of good practice. And even people who aren't part of it, mention it – it comes up in conversation, or Culture Collective is becoming a shorthand. And I think that's credit to the Culture Collective team, and to the buy-in from all of the artists that they employed across Scotland. It feels like a real shift, a real movement, which is amazing. It absolutely needs to carry on.
What are you currently working on in your own practice?
I'm currently on Remembering Together in Renfrewshire. I'm doing the research phase of that; we're coming up to the last few weeks of that section. We're using arts and creativity to work collaboratively with communities to explore what we want and need as a memorial to COVID. So I'm going around the whole of Renfrewshire talking to loads of people and constructing cardboard mandalas, which are going to become a big sculpture, to try and express how we feel about COVID and lockdown. And then eventually, there will be creative responses to that being built over the next year and the year after. So that's super exciting.