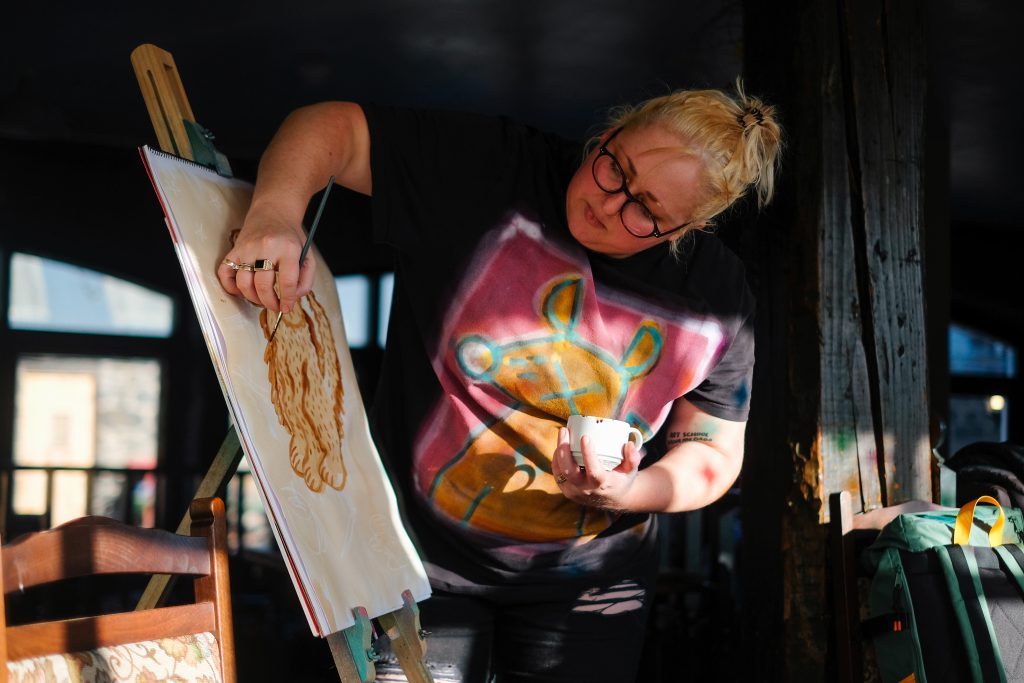 In mid-March, six CULTIVATE Creative Practitioners headed to Comrie Croft in Perthshire for a three-day residential that brought together 65 people from the Culture Collective network.
This residential was a chance for people to collectively share one space, representing 20 of the 26 network projects. Participants could take time to exchange learnings from their projects through reflection and connecting, and each of the participatory activities in the residential programme was devised and facilitated by attendees. Topics included group dynamics, creativity in prisons, neurodiversity, social dreaming and – from CULTIVATE Creative Practitioner Jaz Grady – positive procrastination.
After some time spent letting it all sink in, Jaz reflects on the trip and why procrastinating with purpose is all part of the process.
---
How appropriate that for the blog post I was asked to write and talk about my workshop on procrastination, I have procrastinated for possibly the longest time in my entire life.
It's not that I don't have anything to say. Our residential trip to Comrie Croft in Crieff with the Culture Collective team was the best. Stuff 75+ artists in a small space for three days and you'd think there'd be chaos. Community gardens popping up all over the place. So many empty bottles of cheap red. But here's what there actually was. Three bloody amazing days jam packed with peer based learning. Workshops up to wazoo on everything you could think of. Kindness and sharing and learning and growing. And, yes, an entire wheel of brie for breakfast.
But to the point.
Positive. Positivity. And not in that bullshiz instagram-brunch-and-a-side-order-of-credit-card-debt-private-gym-just-be-positive-it's-really-that-simple-it's-your-fault-your-issue-your-way-of-thinking kind of way. But in the way of actually allowing ourselves to be happy. To be positive. To not always tell someone we got something on sale in case they judge us when we get a compliment about our new jeans. Or feeling like maybe eating one less plastic wrapped steak from Asdesco actually *is* helping make a difference.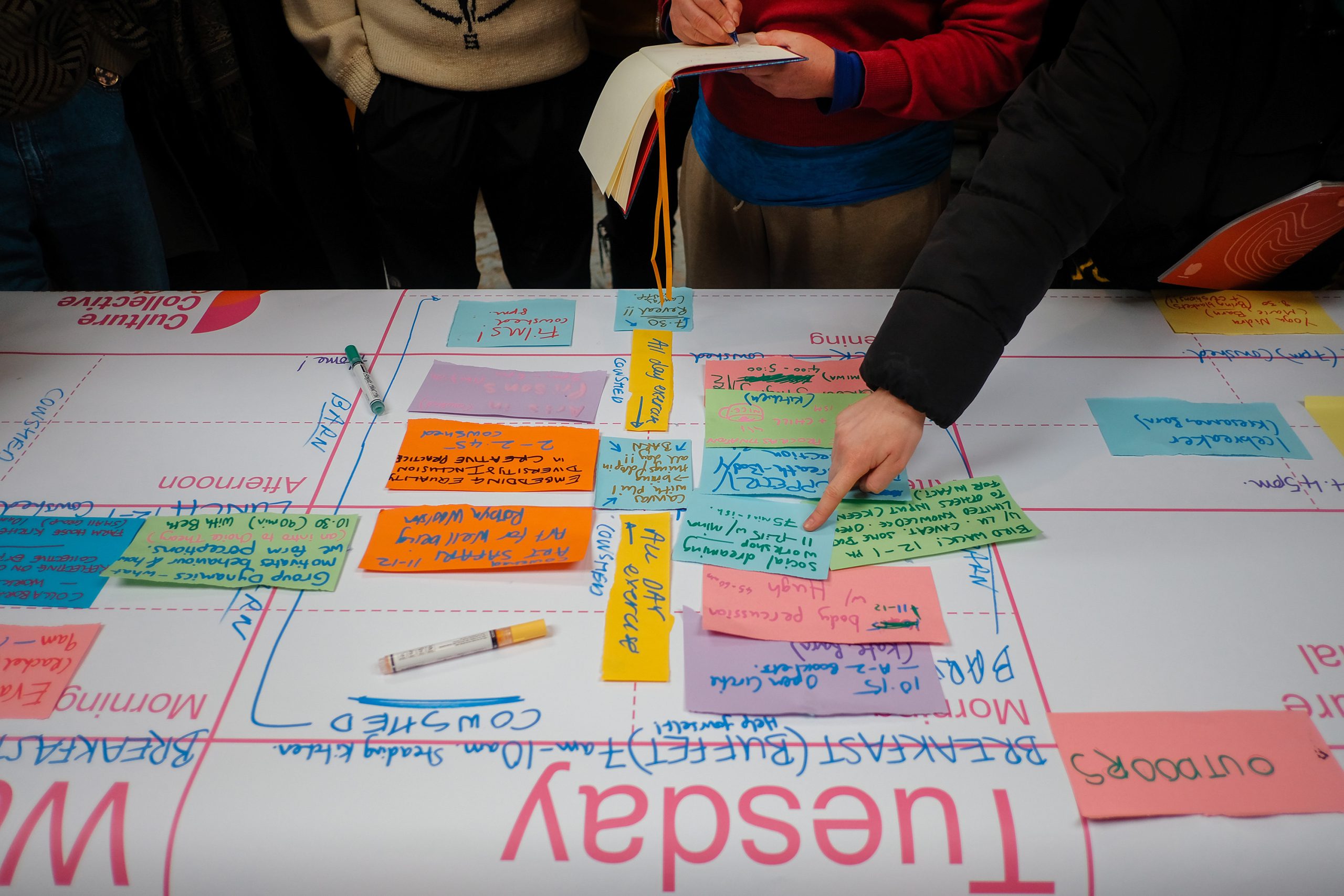 Procrastination. Depending on what generation you were born in, this word could elicit a multitude of different feelings. Shame. Laughter. A slow head nod. A feeling of overwhelm. For others, it does in fact spark joy.
Positive Procrastination. Understanding that procrastination is part of the process, and that it can be fun as heck. It is so necessary. If it wasn't, wouldn't we not do it? Maybe it's part of the process. Maybe we can harness this utter determined state of mind to do absolutely *anything* besides the actual required task at hand.
Here's my easy way to chill the duck out and procrastinate, positively.
Step 1.
Coffee. Or tea, no judgement. But ideally, coffee. This is an excuse to always have some on hand. I know, crazy to think some people don't wake up and have their eyes rolled back in their head until they stumble to the kitchen and prize open their sticky lidded jar, but it's a privilege for some, and this is an excuse to treat ourselves.
Step 2.
One for you, one for the task at hand. Brew yourself a cup. Make another, but with about an inch of water, and insanely strong. We're essentially making ourselves a paint. Or even two. I like to have one so strong the grit sticks to my brush, and another smoother and a softer cookie coloured tone.
Step 3.
Put on some beats. Lo-Fi is my go to, with a million youtube playlists and radios and just mellow vibes to set the mood. Grab some paper, and a brush. No equipment? Try paper towels and a q-tip. The corner of a rag. That cardboard from your latest scamazon purchase hiding in the recycling bin. Light a candle. Put on DND. No, I'm serious. Put it on.
Step 4.
Paint a dog. A good boi. A mighty pupper. A fluffy smoosh. A stumpy sausage. With two foots, and two toots. With floppy ears. Or spiky ones. Use the softer colour to paint the body. Outline and create details with the strong stuff. The longer you take to do this, i.e. the longer you procrastinate, the more the paper dries in between coats, and the better it works. Trust me.
Step 5.
You are now a magician. Grab a tea light or a candle stump and draw some stars in the background. It's like an imaginary pen. Where's the ink?? Use that watered down colour and fill in the background. BAM you've gone all Van Gogh (or Don) and it's a starry, starry night, baby.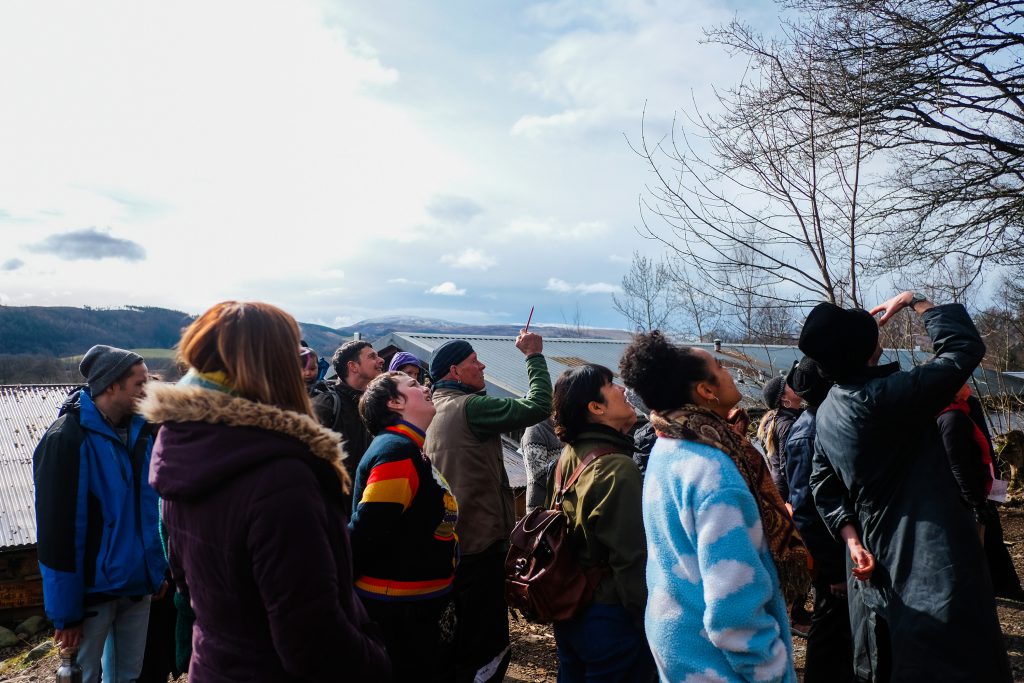 Ok. I'm now 655 words into the post. Bonus points for anyone who can guess what I've done here. Yep, I've used the post to procrastinate from doing the actual post.
To paraphrase the Obi-Wan and only, 'the procrastination is strong with this one'. SOME HIGHLIGHTS + THINGS TO TAKE AWAY (FROM THE RESIDENTIAL):
It's not just you fighting the good fight
You are part of a family
People can eat a lot of lentils
There is so much knowledge to share between each other
It's always amazing to see people passionate about something, and it's oh so contagious too
You do, in fact, know things
It's not just you trying to reuse and recycle and looking for better practices that don't cost the earth (as much)
The Krooked Kitchen (if you know, you know)
You're never too old for a bunk bed
The best experiences can be the ones you don't expect
A lot of people suddenly care about poetry when you tell them it's a competition
Here's to the million cups of coffee made for others before the maker was able to make one for himself. To the makers and doers who got to spend a whole workshop thinking and working on themselves. Here's to the awareness training and access conversations and the collective sharing on how to do better. To the charity shop run to get t-shirts to spray paint for others. To the GF buddies and sharing (and hoarding) snacks. Here's to the organisers and the people who have to fill in forms and do stuff to make sure we get work and paid and money to eat. And here's to all the participants and groups that have worked, played, laughed, sung, danced, cried, held hands, met new people, seen new places, thought new things, and lived just that little bit more, with us.
---
This blog post was originally published via Creative Dundee. With thanks to Jaz Grady for sharing this reflection and her photos.
CULTIVATE is a Culture Collective leadership programme led by Creative Dundee. The programme works with local creative practitioners to place creativity at the heart of climate justice, developing action with communities across the Tay region. Find out more about CULTIVATE.