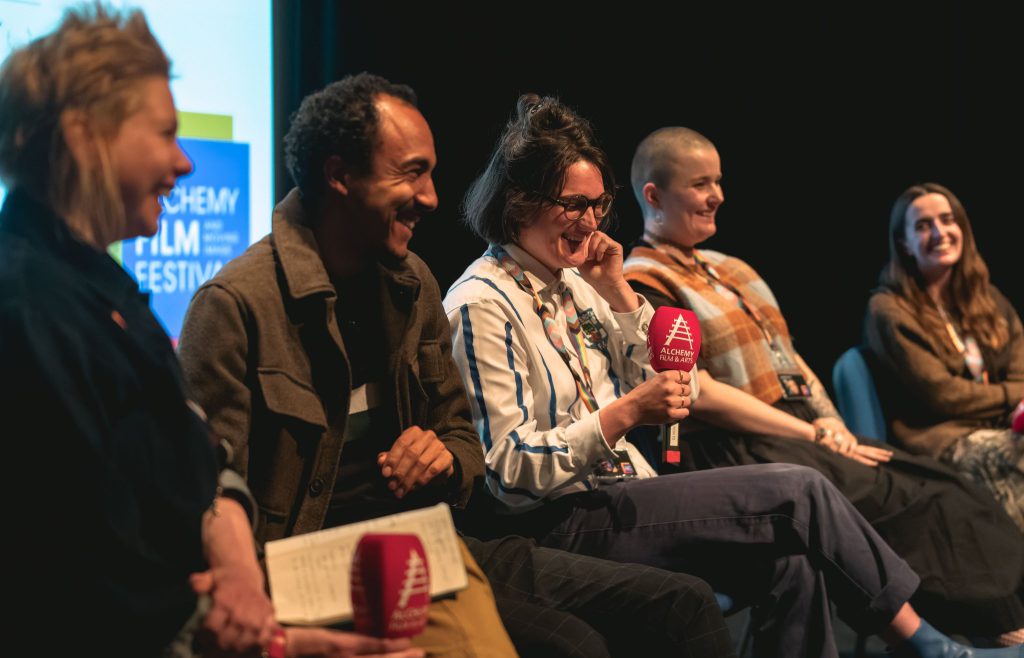 I took the train in the opposite direction from Greenock in order to make my way to Hawick [Hoy-e-K] and Embrace the Strange. At this point, I had no clue strangeness was going to be a recurrent theme during my time in the Scottish Borders for Alchemy Film and Moving Image Festival, but this would soon become clear.
I had the pleasure of being part of the festival this year with Walking to Connect, a film made during my residency with Your Voice Recovery Group, supported by Inverclyde Culture Collective during the summer of 2022. Far from being a documentary, it shows the impact of connecting with our local environment. Nature walks, experimenting with the medium of video and communal experience are at the core of the film, using "collective-joy" as a method of working. Because of the nature of the film, I couldn't see myself going on my own; the film was made collaboratively with my group, so it couldn't possibly be a solo trip. It didn't take long for me to ask the Culture Collective if we could bring the 'Greenock Boys' to Hawick! Thanks to the Go See Fund, we were able to secure travel and accommodation for everyone involved, which was truly special.
The festival started on Thursday night, but my initial introduction to Hawick happened earlier, in the lobby of my hotel. Greeted by a stranger, who I would later find out to be a fellow filmmaker, I started to wonder when any hotel staff might appear. After a few utterances of "hello, hi, is there anybody here…", someone appeared from behind a corner. Fast forward to a very detailed introduction, we were then taken to our respective rooms, accompanied by comments like: "I haven't been in this part of the hotel yet" – a strange thing coming from a staff member of a fairly small hotel. Embracing the Strange indeed.
Browsing the schedule, I was astonished by the amount of Culture Collective-related films and projects involved in Alchemy this year. It made me feel proud to be part of such a diverse collective network who are entrusting artists to do their work and in turn, embrace their own strangeness.
Friday was the big day we were all waiting for, and while the Greenock team were making their way to Hawick, I was preparing the field to make sure everyone knew they were coming. Wearing my hand-made Greenock Morton's shirt, I was proudly showing off the fact that my heart was indeed in Greenock.
As I stepped out into the heart of Hawick to take part in the festivities, I began excitedly spotting my team. First, I see Jack Stancliffe, the Inverclyde Culture Collective Activities Coordinator – always ready and incredibly supportive of the project from the start. Then I spot Martita Dunn, Your Voice Recovery Coordinator, without whom this project wouldn't have even existed. It was her idea to get an artist in residence to join the group for outdoors-based work. Finally, Brian, Kenny, Kevin and Johnny aka The Greenock Boys – they made it to Hawick!
As soon as they arrived, there wasn't much time to catch-up, with the next screening about to begin. But I wanted them to be able to experience the festival before watching their own film – to experience what it's like to be in these spaces and how it's not all about ourselves but also about celebrating others. When it was our turn, our hearts started pounding as we saw the first image appear on screen; the water by the Beacon in Greenock full screen. This was the second time we were watching it together. At the end, there was an eruption of applause, with other Culture Collective members that were in the audience making sure the team received the acclaim they deserved. We were all emotional. I hadn't watched the film in a while, and being with everyone in the room made it special but all the work involved in getting everyone to come down was the cherry on top of the cake.
The Q&A that followed was really exciting and I was honoured to be next to artists that were part of the programme but I also wanted to make sure the Greenock team were recognised for their work. As an artist in residence in a participatory project, it is important to acknowledge that I am earning a salary to make this work, when the participants are not. It is something we need to remember, especially when we are breaking the wall with our participants.
Over the course of the festival, the Alchemy Film and Arts team were incredible, as well as the filmmakers and members of the public that made us feel so welcome and part of the wider arts world in Hawick. The festival ceilidh in particular was a celebration of joy and it was wonderful seeing people coming up to chat to the Greenock Boys to congratulate them.
The Alchemy Film and Moving Image Festival may have centred on this idea of Embracing the Strange but it was also about embracing collectivism and connectivity. However, returning to my initial experience in the hotel lobby, I'm reminded of how the hotel manager had a slight panic when our allocated rooms had been muddled. I barely paid attention though as I couldn't stop staring at her mouth, distracted by the bright green hue of her tongue. Embrace the Strange, they say.
---
Elina Bry is a multidisciplinary artist, working across video, storytelling and live performance. Alchemy Film and Moving Image Festival took place from 27-30 April 2023.